Read below for details about NEW and UPDATED pages. Please share your comments, suggestions, & ideas in the boxes located at the bottom of the category pages. Need technical help? Check out the "Techy Help" tab above. For all other questions and support, please click the "FAQ/Support" tab.
Thank you!
Debra :)
SMALLER SIZED JOURNAL
I am asked several times a week about providing smaller sized pages. This is just not something I can offer at this time. The best advice I can give for those wanting a smaller size is to adjust your print settings with the PDF files. I have been meaning to do a video to show how this can be done, but haven't had the time. Here's a real quick rundown of how to adjust the settings (this won't be perfect, but may work for some of your needs).
Using the PDF version of a file,
1) Click File / Print
2) Page Scaling / Multiple Pages per Sheet
3) Pages per Sheet / "1" by "2"
4) Auto-Rotate Pages (check this box)
(I would turn off the "Print page border" option.)
This will give you two pages of our journal for every one sheet of paper. Page size will be reduced to fit on a 5.5" x 8" area. The scaling of the page is consistent but it's not going to be a perfect proportion for those using the 5.5" x 8" journals.
SETTING UP YOUR JOURNAL
Check out the new section: "Setting Up Your Journal" under "Debra's 2 Cents". In this section I will be sharing how-to tips and samples from my own home management notebook(s). https://momstoolbelt.com/archives/category/setting-up-your-journal
NEW THEME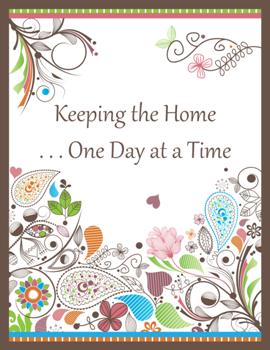 I have received MANY requests for a swirly-deco-modern-funky design for our Mom's Home Journal. I'm not sure if I have hit the nail on the head, but I do have a new theme in the works. In the coming months, I will be adding this theme to all of our currently available seasonal pages and will also include it in any of our new updates. Just an FYI . . . I do not plan on adding any other themes in the near future. It is a tremendous amount of work to add a new theme, but I had SO many requests that I felt this one was needed. This theme will be all-inclusive, meaning that there will not be seasonal swaps for dividers, calendars, etc. I might make a variety of different covers and spines, but everything else will be color-coordinated throughout. :)
Divider Title Pages
(NEW) Swirly Theme Divider Pages
Household Planning Forms
(NEW) Medical Forms – 4 options for Birth Record, Vital Information, & Immunizations
Coming in future update … page for each child's medical history, doctor/dentist visits, etc.
Seasonal Cover Pages & Spines
(NEW) Swirly Theme Covers & Spines