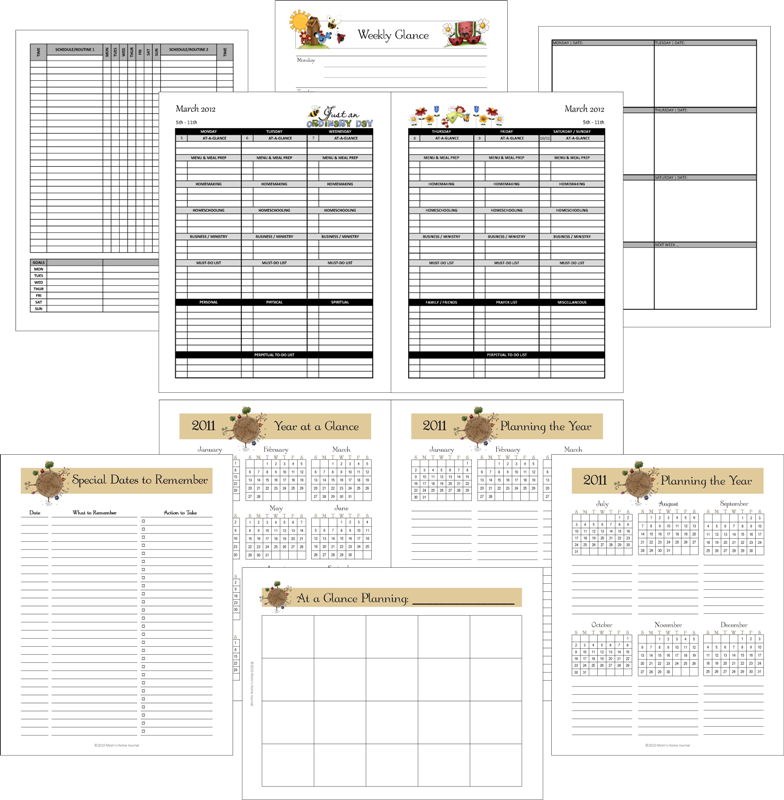 Household Notebook: At-a-Glance Calendars
Choose from a variety of pages to plan your day, week, month, or year at-a-glance. This section has small planning calendars that you can use to pre-plan your month, quarter, or full year all at once with just a few pages. When ready to start the new month, pull the needed info off of these at-a-glance calendar pages onto your working calendar.
Household Notebook: At-a-Glance Weekly Planner (2 page spread)
Our Weekly Planner Pages have a place to record everything for the individual days each week. Print these with the Weekly Planner Inserts to make a complete weekly planner. Print front/back for a seamless planner book.
Custom / Editable Household Planner Pages
Our weekly planner pages contain editable files so you can customize colors, headings, etc. Make this YOUR planner!
I print the weekly planner pages so that they open flat and I can see the whole week. I print a month at a time using both back-and-front of the printed page. In the front, I keep the routine page with a transparency over it so I can reuse this page each week. Just use a marker to mark off your routine as you go. Use a cotton ball dipped in rubbing alcohol to remove marker and you're ready for next week! I have filled in 2 routines, one for school days and one for work days. In between my weekly two-page spread, I have the Daily Do List Insert (folded in half and with 1/2 sheet of transparency on either side so I can use a marker). SO AWESOME!