ZIP Files?
You will notice in each section of the Member Download Center that we have optional ZIP files. These are bundled up files from that ENTIRE section that you can download at one time. What's VERY cool about these ZIPPED files (besides the time they save you in downloading) is that they also contain nicely organized folders so that once these ZIP files have been "unzipped", you have a SUPER organized set of files and folders of the entire category. Download all of our ZIPs and you will have our entire collection completely organized in minimal time on your computer. This will also make updating your files a cinch!
What to DO with the ZIP Files
I suggest you create 2 folders on your computer. One to store your original ZIP files and one for the extracted files you will actually use.
Ex: Folder for ZIPs: "MTB-Household-Planner-ZIPs"
Folder for files: "MTB-Household-Planner-Files"
Step-by-step:
Create 2 new folders: "MTB-Household-Planner-ZIPs" & "MTB-Household-Planner-Files"
Download/save the ZIP files from the Member Download Center to "MTB-Household-Planner-ZIPs".
Extract files from each downloaded ZIP folder (as described below) saving them to "MTB-Household-Planner-Files" folder.
Extracting Files
To use the files in the ZIPPED folder, you need to unbundle / unzip / extract them. Your computer likely has a ZIP utility already installed. To "extract" the files, right-click the ZIP folder and choose "Extract all" fom the pop-up menu and choose the folder "MTB-Household-Planner-Files" as their destination. (If your computer does not show this option, download the free zip utility 7zip available at https://www.7-zip.org/.)
If you have followed these directions carefully, you will see a nicely organized set of folders in the MTB-Household-Planner-Files that match our categories here at the site.
How to Open, Organize, and Update ZIP Files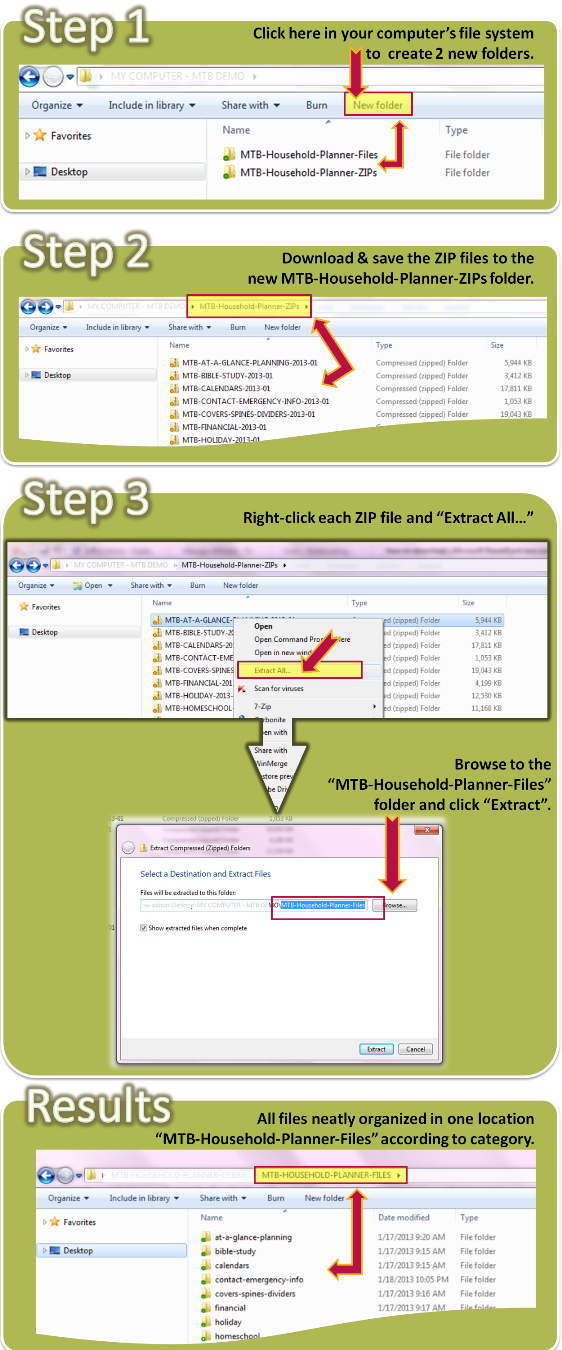 When Updates are Available
When updates are available, we will update the ZIP files in the member download center. Save these new ZIP files to your "MTB-Household-Planner-ZIPs" folder. The ZIP files will be dated so you can keep track of which updates you have previously downloaded. Next, extract your files into the "MTB-Household-Planner-Files" / specific CATEGORY folder (like "calendars"). You will see a pop-up window asking you if you want to MERGE these folders and you will say "yes". You will also see a pop-up window asking you if you want to save over files with the same name and you will say "Copy and Replace". This will merge all of the files into the correct folders and update any old versions. See below for screen shot & video helps.
Update Your Files and Keep Previous Customizations