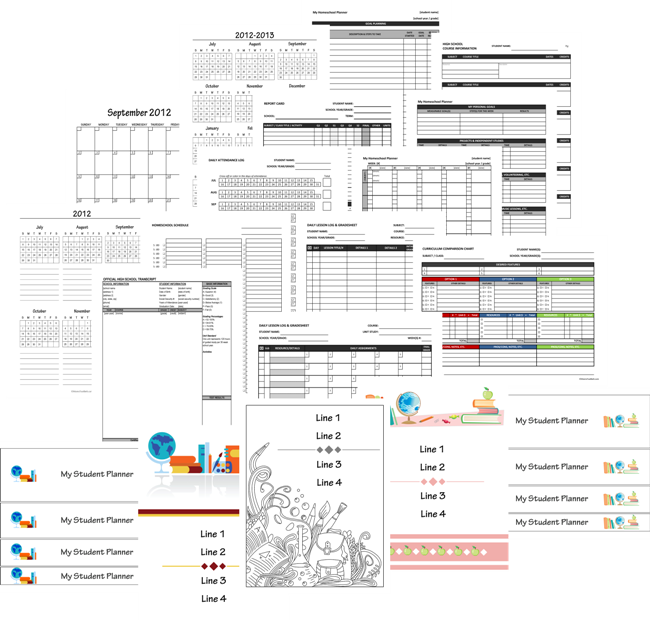 Homeschool Planner & Student Assignment Book Pages
Create a homeschool planner notebook for you and a student homeschool planner for the kids!
We have two different "styles" of homeschool forms you'll see below. Some have cute clipart and some are bare bones basic. Our homeschool planner pages are printed in large volumes. Minimizing use of ink is important. So for the forms that will be used over and over, I have not included the clipart. Also, by leaving off the clipart, I was able to provide the XLSX & XLS forms in "unprotected" mode so you can basically edit anything you like … even the columns & rows sizes. Lots of versatility! Of course, if you WANT to add color, you can!

Some forms have multiple worksheets so be sure to check those out when you open the files. If you're using files with multiple children, I would highly recommend saving multiple copies of the files … (example…"weekly_planner-pdfe", "weekly_planner_pdfe_Johnny", "weekly_planner_pdfe_Susie", etc.).
Mom's Homeschool Planner Notebook
This includes covers, spines, and title/divider pages for your Mom's Homeschool Planner Notebook.
Homeschool Lesson Planner Pages
Add your own titles/subjects/headings . . . use these files how YOU want to use them!
Lesson Planner for 7, 10, or 15 Subjects
Lesson Planner for Long Term
Lesson Planner for Unit Study
Student Homeschool Planner Pages
Completely customizable XLS forms
Attendance Log
Attendance Log by Subject
Calendars: Yearly, Monthly, At-a-Glance
Cover Pages & Spines
Divider Pages
Daily Assignment & Grade Logs (7 forms)
Record Sheet for Activities, Goals, Projects, etc.
Weekly Assignment Sheet (4 forms)
Homeschool Planner forms for Mom and/or Student
Contact Information (for activities, groups, etc.)
Curriculum Comparison Chart
High School Course Information
High School Transcript
Home School Resource List
Homeschool Resource List (to buy – 2 forms)
Library List
Read Aloud List
Reading List
Reading List (per course)
Report Card (3 forms)
Schedule (5 minute increments, mulitple family members – 10 forms)
Website List
Website Password List
Writing Ideas Brainstorm Page
Each of my children has their own student homeschool planner notebook. These are covers we made with clipart and images we found online. Make your own using the "add-your-own photo" cover page that's included with your membership. We use our ProClick binding tool to put these together.
---
How we assemble our HOMESCHOOL ASSIGNMENT BOOKS:
In the very front, I put our Daily Attendance Logs for each month.
Then their daily chore charts & daily routine/schedule.
Then, tabbed sections for all subjects (I buy sticky colored index tabs from Walmart). Within each subject tab, I keep their Daily Lesson Log or Daily Unit Log. (more details below)
Lastly, I add things like spelling lists/log, memorization pieces (Bible verses, poems, etc.), and any other reference material they made need throughout the year.
How I use our HOMESCHOOL ASSIGNMENT BOOKS:
Daily Attendance Log
I write in the subjects across the top and dates down the side. Then, I will use a highlighter to highlight the individual boxes for each subject the kids need to do that day/week. You could also pencil in the amount of time spent on each subject in the little boxes if that's required by your state and tally the day's total in one of the last boxes.
Daily Unit Log
I use this page for our studies that span over more than a week's time. I do not use the "Monday/Tuesday/Wednesday" headings. Instead I use "Day 1, Day 2, Day 3, etc.". Then I make a list of reading assignments and activities for each day. I use the longer boxes at the bottom for activities that span the week like experiments, mapping assignments, timelining, etc.
Daily Lesson Log (Assignment Book)
This is our GREATEST gem.
These are great for planning a whole quarter/semester/year's worth of assignments at one time. I fill in these pages as much as possible on the computer and then print and add to their notebooks. That's what I LOVE, LOVE, LOVE about these DIY sheets. You can enter the info, SAVE it, make individualized copies of worksheets right within the file . . . and if you mess up . . . come back here to download a fresh new copy! When I print them out, I do not date the assignments, but instead make a full chronological/ordered list for subjects that fit this kind of planning. I will type things to be done with Mom in a different color so they know what things need to wait. When they have finished a particular assignment, they date and mark the appropriate boxes. It has made the kids really OWN their school day — a simply fantastic tool!
I have offered you so many options within this file – 21 different pages. You can rename the columns as needed to fit your particular subjects/courses. You can also make duplicate copies of pages you like right there within the file and give them new names like . . . Math-Johnny, Math-Susie, LA I, LA II, etc. Very versatile! Tell us how you are using these pages with your family in our comment box below. I'd love to hear from you!