Read below for details about NEW and UPDATED pages. Please share your comments, suggestions, & ideas in the boxes located at the bottom of the category pages. Need technical help? Check out the "Techy Help" tab above. For all other questions and support, please click the "FAQ/Support" tab.
Thank you!
Debra
There are several new planner pages as well as some updated ones (thanks for the feedback!). I am editing the "How-To" files (most are hidden from your view right now), putting together some photos of my journals as well as some slideshows. Watch for those in the coming month!
Membership Info
Your membership links & info are now organized in the top right corner of the page. Everything you need pertaining to your membership will be found there once you log-in.
Enjoy the updates & keep the suggestions coming!
Planner Updates
A PEEK AT WHAT'S NEW
[book id='32' /]
---
DETAILS
At-a-Glance Planning Pages
(NEW) At-a-Glance 2013 Calendars
(UPDATED) Weekly Planner Inserts (XLS files): Time Column reformatted to be general and centered
Homeschooling Pages
(UPDATE) Homeschool Lesson Planner (XLS files): Fixed subject column to align vertically with smaller font
Household Planning Forms
(NEW) Medical Planner Cover Pages & Title Pages
(NEW) Medical Forms: Doctor Information, History of Appointments, Medication Log
Journaling Pages
(NEW) Journaling Pages – Swirly Design
Seasonal Cover Pages & Spines
(UPDATED) Cover Pages & Spines – Swirly: Corrected the direction of text on the white spine.
To-Do Pages
(NEW) To-Do Pages – Swirly Design
Have a website or blog?
Please share a link with one of our web buttons!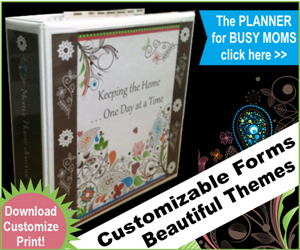 ---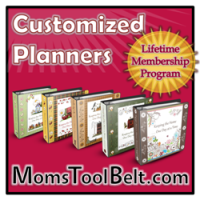 ---